How Kilk is Kilk?
Our Story
"Every pen is a poet in its own realm"
Kilk, whose seeds were sown in an art workshop born out of friendly conversations in Üsküdar, the city that witnessed the Conquest, has branched out by nourishing itself from the dreams, ideas, and inspirations brought by the artistic environment on its journey to becoming a plane tree..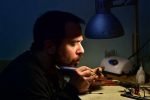 Kilk, from design to production and even its journey with writing enthusiasts, thrives on the concepts of wit, aesthetics, ergonomics, and durability supported by its metal legs.
In addition to its boutique, limited edition, and personalized designs and applications, Kilk also aspires to accompany writing enthusiasts for generations with its standard models.
With the addition of several pen enthusiasts to the team in 2020, Kilk has steered its designs and brand towards greater excellence, establishing itself as a valuable entity in Turkey that designs and produces writing instruments professionally, and it aims to reach wider audiences on a global scale.
We always welcome the opportunity to have a coffee and get acquainted in our workshop, and we look forward to it at all times.